Tom Boonen, one of my favorite riders, tested positive for cocaine in an out-of-competition drug test (for the second – or maybe his third – time).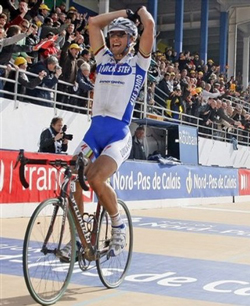 Both WADA and the UCI don't consider this a positive dope test because cocaine is an amphetamine whose effect lasts for only a short while and thus is only banned during competition, and even then it's only considered positive if the drug is found to have a concentration of more than 0.5 ng/mg.  That means that any control that comes back positive for cocaine during an out-of-competition drug test should be considered negative.
Boonen tested positive for cocaine during his recuperation time between Paris-Roubaix (which he won) and the next goal of his season, which is to win the Green jersey at the Tour.   Tom says he doesn't remember taking the drug, but acknowledges that he suffered a blackout from drinking too much the night before the test and, given the apparent availability of cocaine in nightclubs in Belgium, does not rule out that he may have taken some.  However, it has since been revealed that his "positive" test was for a concentration of 0.09 ng/mg, which falls well below the threshold for a positive control and should therefor actually be considered a negative test.
This has not stopped the most autocratic organization in cycling – the ASO (who organizes the Tour de France and is thus the most powerful organization in cycling) – to declare that Boonen is "unwelcome" at the Tour due to his positive test.  Meanwhile an independent panel has asserted that in order for the concentration to be so low, Boonen must of had only indirect contact with the drug and in any case does not use regularly.  Basically, he didn't inhale.
It is absolutely necessary to have out-of-competition drug tests.  The most effective drugs in cycling like, for example, EPO, have lasting effects for up to 30 days and can only be detected for a small number of days after taking the substance.  Obvsiuosly, any rider with even half a brain will not take the drug immediatly before or during a competition while the substance can be detected but will instead take it some time ahead of the race.  Therefor, the UCI has to be allowed to test for the drug arbitrarily during the season.  Cyclists are required to account for their whereabouts for each and every day during the year and guarantee their availability for a drug test for a 4-hour window each day.
Obviously, this is a huge sacrifice of personal freedom and many consider it an invasion of privacy.  The argument that it is required in order to gaurentee fairness in the sport and an invasion of privacy both have merrit, but I strongly believe that out-of-competition tests should test – or at the very least report – only drugs that are on the out-of-competition prohibited substance list.  The fact that Boonen had cocaine in his system is irrelevant to the sporting world and a private issue between him and legal authorities in Belgium.  I find the fact that it was made public disgusting.  If I take a drug and test positive during an interview process, I expect that to be a matter between me, my prospective employer, and any authorities they would be obligated to report the test results to.  It should be no different for a professional cyclist, especailly given that they may be tested any day of the year.
ASO, please reconsider and let Boonen race.