Ever since winning this year's Tour de France, Alberto Contador has been at the center of rumors that he was involved in Operation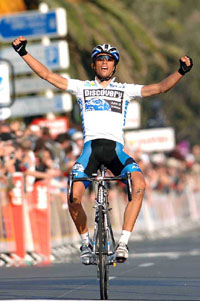 Puerto. Before Rasmussen was thrown out of the race while wearing the Yellow Jersey, it seemed like no one but Michelle was talking about the fact that Contador was not allowed to start the 2006 Tour due to alleged involvement in the blood-doping ring. Naturally, the day he took his first Maillot Jaune, the chatter started.
It seems to have become a bit more severe this week, with a German doctor claiming to be in possession of documents that clearly indicate Contador is involved, and that his win is "the greatest swindle in sporting history". (The doctor, Dr. Franke, is the same doctor who repeatedly claimed Jan Ullrich was also involved, which ultimately proved to be true.)
On Saturday, the World Anti Doping Agency requested the documents from Franke and the agency has since opened an investigation into Contador's involvement.
Today, Contador and his team, Team Discovery Channel, have announced a press announcement to be made on Friday. VeloNews reported:
Tour de France winner Alberto Contador has scheduled a press event this Friday in Spain, but says he will decline to answer reporters' questions after he reads a prepared statement.
It is impossible to guess what will be said at the conference, but it certainly sounds ominous. I figure a 50-50 chance as to whether Contador will sternly refute the claims or will admit his involvement. If I were to judge based on what has been revealed in press conferences so far this season, I would say the safe money is on an admission, but we'll have to see.
Read more on Doping in Cycling.