We have a hotel right on Whistler village.  Right over the place where the bands play.  It's crazy up here.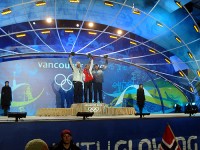 Last night, we strolled down and got let into the medal ceremony and watched Bode Miller get his Bronze.  We were like 3 rows back because Michelle has no fear and will push through any crowd because she's pretty and no one will fight her.
Today, we started the day off with mittens.  I stood in line for a half hour waiting to get into this store that sells the red mittens that everyone is wearing.  Stock is way short and, well, that means Michelle want's 'em.We heard this one store was getting an extra shipment (the first to get to Whistler) so I went out there and waited in line.  Pretty fun joking with people.  All the Canadians realize the Olympics are way in debt and that any money on this kind of thing helps pay for the event.   I spent my time telling people I was going to grab a whole mess of them and sell them on eBay.  I got a few pair and when I saw how many others were buying, I grabbed a few pair more.  About 6 in total.  By the time I checked out, they were sold out.  Sad.
So, we had tickets to the chick biathlon today.  It was rad.  Then we went and saw the chicks race.  They are really tough.  The German woman Nunnienunninienienienenennneneneienienien won (that's not her real name, I changed it for her protection) won and it was totally cool.  We were in the grand stand and everything.
We didn't have tickets to the men's event, which meant that we had to go outside the grand stand where you were allowed to have beer and bratwurst.  It was like we were in Germany.  Except every sentence ended with ", eh?".  So we had some food and beer, and wandered out to the course and we watched the men race enroute which, as a bone-e-fide ex-racer, was way more fun than watching in the Stadium.
Then we jumped back on the bus and headed back to Whistler.  We changed out of our wet clothes and went to Blackcomb for drinks at the Fairmont.  On our way back we stopped at a tiny hole-in-the-wall pub with about 6 tables.  It also happened to be the time that the Canadian Team was playing Norway in Hockey.  Canada was going Apeshit.  We sat and ordered beers.  Then I realized I was wearing my favorite Nordie hat with a big-ol Norwegian flag on it (I am not Norwegian).  So, Michelle and I decided to root for the Norge and against the Canuks.  We did so vocally.
We were politely thrown out minutes later.  Graciously, the bartender did not charge us for our drinks we did not have the opportunity to finish.
And so it goes.  The Alpine events continue to be delayed; we hold tickets to the Mens Super G on Friday, and we're hoping the event stands.  But, as Whistler goes, the weather is unpredictable and unstable.  Tonight, the temperatures seem much lower and clouds are rising.  Hopefully the events will go on tomorrow.